Posts for tag: laser dentistry
By Art of Dentistry Danville
July 22, 2018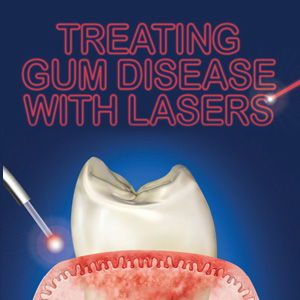 While lasers still seem like science fiction, they've been used commercially (and medically) for decades. But there's still room for growth in practical applications with this developing technology. One promising area is in the treatment of periodontal (gum) disease.
Gum disease is a bacterial infection triggered by plaque, a thin film of bacteria and food particles caused by inadequate oral hygiene. The disease is highly destructive and can eventually lead to both tooth and bone loss. Treatment procedures vary widely, but they all have the same goal: remove the offending plaque and calculus (tartar) from tooth and gum surfaces. Without plaque the infection subsides and the gums can heal.
For decades now, dentists have removed plaque and calculus manually with special hand instruments or ultrasonic equipment. If the disease has advanced below the gum line or formed deep voids filled with infection called periodontal pockets, the dentist may also employ surgical techniques to access the infected areas.
While all these techniques have a long track record for effectiveness, they can cause the inadvertent destruction of healthy tissue, as well as create discomfort for some patients afterward. This is where a new protocol called Laser Assisted New Attachment Procedure (LANAP®) may be able to make a difference in the future.
With the LANAP® protocol, surgeons direct a laser beam of light through a fiber optic the width of three human hairs onto diseased tissue. The particular color of light interacts with the tissue, which contains the darkly-pigmented bacteria causing the disease, and "vaporizes" it. The beam, however, passes harmlessly through lighter-pigmented healthy tissue; as a result diseased tissue is eradicated with little to no harm to adjacent healthy tissue.
With these capabilities, trained dentists using LANAP® for gum disease treatment might be able to achieve conventional results with less tissue removal and bleeding, less discomfort for patients, and less tissue shrinkage than traditional procedures — and without scalpels or sutures. And some post-surgical studies have indicated LANAP® might also encourage gum tissue regeneration in the months following.
LANAP®, however, is still developing and requires further research. Thus far, though, the results have been encouraging. As laser technology advances, it's quite possible tomorrow's patient may experience less discomfort and more effective healing with their gum disease treatment.
If you would like more information on gum disease treatment, please contact us or schedule an appointment for a consultation. You can also learn more about this topic by reading the Dear Doctor magazine article "Treating Gum Disease with Lasers."
By Art of Dentistry Danville
October 22, 2014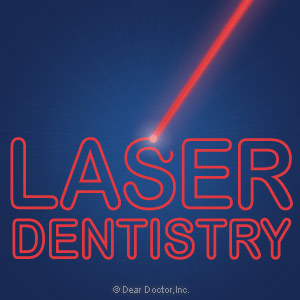 Lasers have transformed our everyday lives, especially in healthcare. These intense beams of light of a single wavelength have revolutionized all manner of diagnostics and treatments, from general surgery to cosmetic therapy.
Dentistry has also been influenced by the laser revolution. Here are just a few of the areas where they're growing in use and popularity.
Early disease detection. Laser instruments can take advantage of "fluorescence," the tendency of bacteria to "glow" when exposed to certain wavelengths of light. This is proving more effective in detecting early tooth decay in pits and fissures (very tiny areas in a tooth's biting surface) than traditional needle-like probing instruments called dental explorers. Newer lasers can now detect the same fluorescent qualities in soft tissues, which may reduce the detection time for oral cancer and make the difference between life and death.
Dental caries treatment. Lasers have become an alternative to the dental drill in treating teeth with dental caries (decay). Although with larger cavities lasers are somewhat slower than the conventional drill, they truly shine when it comes to early enamel caries and small cavities because they can be quite precise in the amount of tooth structure they remove. This feature allows them to be less invasive than a dental drill.
Periodontal treatment. Periodontal (gum) disease is an infection caused mainly by bacterial plaque and calculus (hardened plaque deposits) that have adhered to tooth surfaces. Lasers are emerging as an alternative to conventional periodontal (gum) surgery to treat voids or spaces below the gum line called periodontal pockets that have formed because of gum tissue detachment as supporting bone is lost. With their ability to target and destroy infected tissue without damaging nearby healthy tissue, lasers can achieve similar outcomes as traditional techniques but with less tissue damage and discomfort to patients afterward.
Research and development into laser technology continues to perfect these and other applications that promise to make dental procedures less invasive and more comfortable for patients.
If you would like more information on the use of lasers in dentistry, please contact us or schedule an appointment for a consultation.